Bouwpas has long worked with contacts logging in with a text message code. For some time, Bouwpas has offered the option of logging in with a username and password account. Bouwpas has now started phasing out all users to accounts with username and password, as SMS login will be phased out. Find out how to efficiently manage your contacts here.
Why is SMS login being phased out?
There are several reasons for this. For years, using a code by SMS to log in was one of the more secure ways of user authentication. In recent years, better and easier methods have been developed.
Meanwhile, the use of two-factor authentication, with a code displayed on your smartphone that changes every 30 seconds, is an increasingly well-known and accepted method. Moreover, this method is much more secure.
After creating an account, it is also possible to get "authorisation" from another company or self-employed worker to manage his/her data. This company can simply add a contact in his/her own vault with your company's data. Later, this "authorisation" can be revoked again by removing or blocking the contact person.
When will SMS login stop?
We have not yet set a date when we will definitely say goodbye to logging in with SMS. For now, we will first encourage subcontractors to make the switch themselves as much as possible.
📣 Are you a subcontractor? After you have logged in with SMS, you will see a 'Create Account' button at the top. Set a password there, and you can log in with username and password from now on.
ℹ️ For now, logging in with SMS will still be the method for construction site employees and visitors following a Project Introduction.
Managing contacts
Over the years at Bouwpas, we see that many contractors have diverse ways of working. Some larger contractors have a planning and/or administration department that handles the sign-up on construction sites. At other contractors, sign-up is handled by different people, depending on the project.
To allow you to decide for yourself who will be set up as the contact person for your vault, you can perform the following simple steps:
Log in as a subcontractor, and choose the company you want to manage contacts for.
Click on Contacts in the left-hand menu.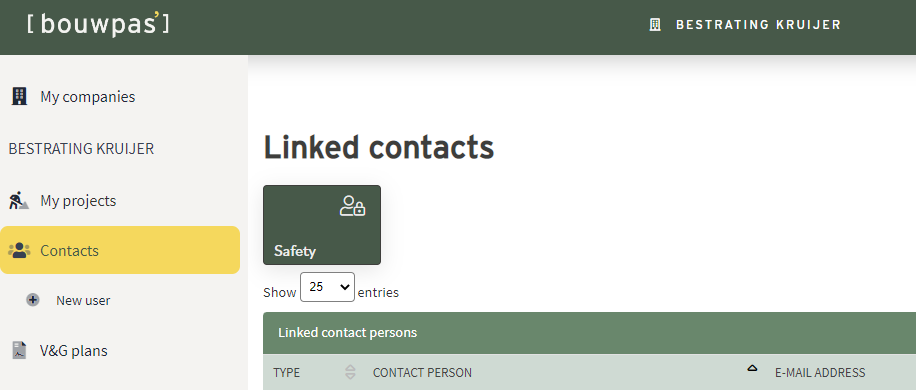 3. Create accounts for the people who will handle the logins in Bouwpas. Some may already have an account because they have logged in before. To create a new account for a colleague, click on New user on the left.
4. Next, in the list of users, choose who the administrators are. Administrators are the users who may be designated as contacts.
5. This step is optional. Click Safety, and check the option 'Only allow admins...'. Then click on Save.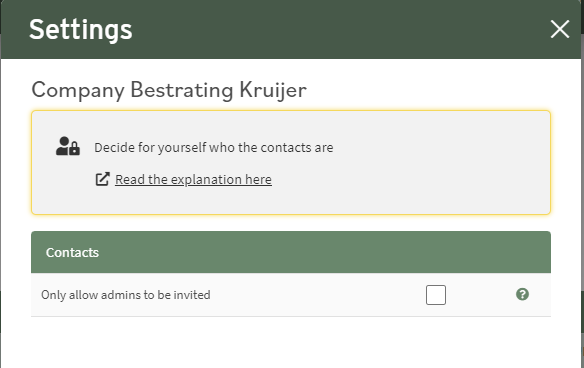 You have now made sure that when your clients add you to a project, they can only choose from your specified list of administrators. Therefore, they can no longer add new contacts to your vault themselves. In that way, you now have your vault better under control!