Bouwpas aims to be suitable for all construction sites in the construction and infrastructure sectors. Therefore, we want to ensure that the system can properly handle all types of work activities and labour relations on construction sites. That is why, we have adjusted how you add different types of contractors and suppliers to your project. In this article, you can read why we do that and what it means for you.
Why do we do this?
The working method we have used since the start of Bouwpas is running into limitations. Main contractors say they want to better track third-party registration. Main contractors want to be able to apply different settings (related to access requirements) to visitors and to third parties. Where do you leave suppliers if you want to register them? It is becoming increasingly difficult for Bouwpas to build a good solution for this with the current way of working.
Moreover, subcontractors who are entered as third parties do not benefit from what makes Bouwpas so efficient: third parties have to register all over again for each project, they miss the opportunity to reuse the data. The sum of customer requirements and system limitations leads us to come up with a new interpretation, which we explain in this article.
The benefits at a glance
Third parties and suppliers can now fill their vault once, instead of re-entering their workers every time.
It is easier for you as a main contractor to request more data from third parties and suppliers.
You, as a main contractor and as a third party/supplier, can better monitor the progress of signing up.
What happens to ongoing projects
This change will be activated for all current projects and projects you are about to start up. Therefore you will be dealing with the new structure as soon as the update goes live. There is one exception: on current projects, you can continue to add third parties in the old way as long as the project is running. On new projects, you can no longer add third parties in the old way. You can think of it as a transition period in which you use the old way on your old projects and the new way on new projects.
The new structure
WKA
This category already existed in Bouwpas, and it works the same way.
You can recognise it by this label:

Choose this label when: the subcontractor performs the contracted work 'wholly or mostly' on the project (> 50% of labour hours).
Non-WKA
This category already existed in Bouwpas, and it works the same way.
You can recognise it by this label:

Choose this label when: the subcontractor performs all or most of the work he has contracted in his own company.
Suppliers
You can recognise it by this label:

Choose this label when: a supplier receives an order from a party in the chain, but a supplier does not perform work on the project.
On several projects, suppliers were previously registered as visitors.
Third parties
You can recognise it by this label:

Choose this label when: a third party performs work on the project but not on behalf of the main contractor or its subcontractors.
Coordinator/secretary
You can recognise it by this label:

Choose this label when: a company is under the same parent company as the main contractor.
Changes and consequences
This is a list of the changes when this update goes live.
List of companies
In the list of companies, you can now see which deployment type has been chosen. You can also filter by deployment type.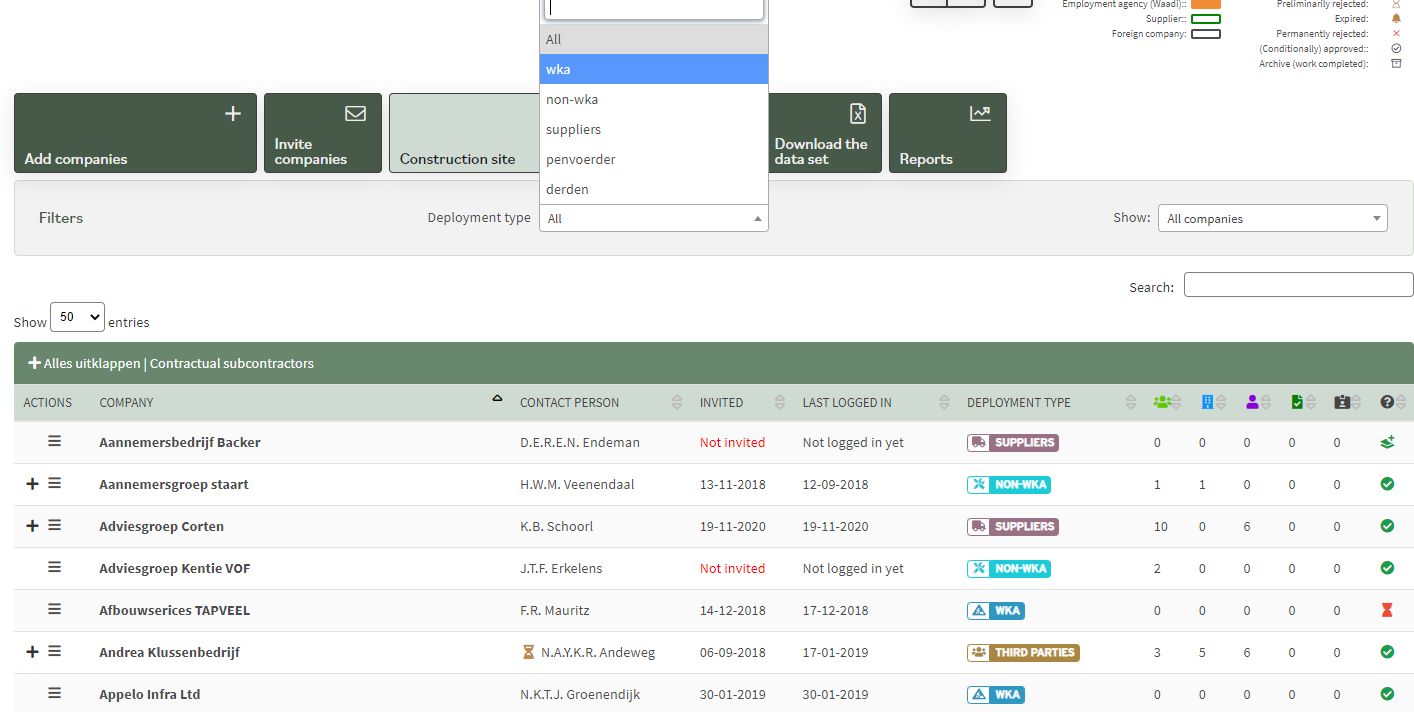 Adding companies
From now on, when you add companies in Bouwpas, you will be asked what type of deployment this should be. Before, you used to choose WKA or Non-WKA, now you can select one of the five above-mentioned options.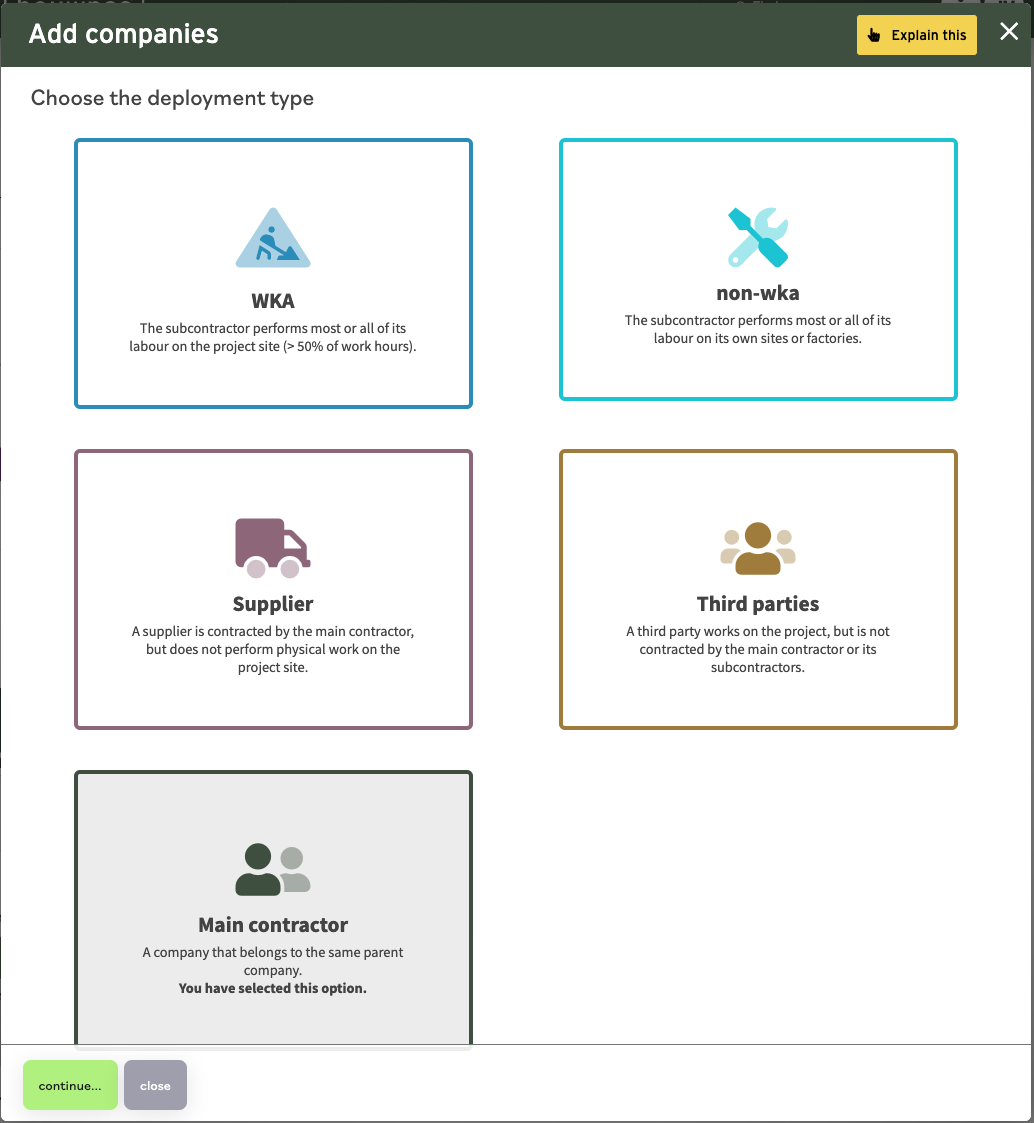 Signing on the construction site
It is now possible to register the same person multiple times on a project, previously you could only do it once.
If the same person is deployed multiple times, the system will ask which deployment you want to register for. Of course, if there is one deployment, the system will skip this question so it does not cost you extra time and clicks. This also applies if you use Speedy Boarding.
Assessments
No deployment assessments are initiated for the new third-parties and main contractor types.
However, an assessment starts for the new supplier type. In this 'Supplier deployment' assessment, you assess the Chamber of Commerce information. This is a simple assessment compared to the WKA assessment you are used to.
Other changes
It is no longer possible to select multiple workers for signing at the same time. Our usage records show that this functionality was hardly used.
Old and new situation in tabular form
Old situation
Type
Subtype
Where to add?
Subcontractors (including freelancers, general partnership v.o.f.), private limited liability companies (B.V.) of the main contractor
WKA
Project screen, tab companies
Non-WKA
Project screen, tab companies
Visitors, third parties, supliers, etc.
Third parties
Construction Site screen, button Third Parties registration
Visitors
Construction Site screen, button Visitors registration
New situation: what are the types now?
Type
Subtype
Where to add?
Subcontractors (including freelancers, general partnership v.o.f.), private limited liability companies (B.V.) of the main contractor
WKA
Project screen, tab companies
Non-WKA
Project screen, tab companies
Private companies
Project screen, tab companies
Third parties
Project screen, tab companies
Suppliers
Project screen, tab companies
Visitors
Visitors
Construction Site screen, button Visitors registration